OUR MISSION IS TO HARNESS OUR CREATIVITY INTO A VIABLE SOLUTION FOR YOU.
Net Directives is a provider of Creative Web Solutions and Innovative Marketing Strategies. We are client focused and results oriented. It is our vision to provide integrated marketing solutions to achieve our clients business online objectives.    We believe that clients should be treated with the utmost integrity.  It is our objectives to provide a client with the best web presence, effective marketing strategies and support as they navigate the Internet for business.
We dedicate ourselves to your online success as if it were our own – because it is. We understand the complexities of the Internet, combining the power of our expertise and today's technology, we specialize in taking your web presence from concept through completion, bringing your online vision to cyber life
We Thrive On Challenging Projects That Produce Bigger Rewards.
The right tools for the right solution for each client.
There is no one-size-fits-all path to online success Triage Meeting
Successful delivery begins with clear understanding. We have to be on same page on the definition of what success is.
Listening not just hearing
We do not dictate.  We collaborate.  We listen,  We ask.  We assess.

Integrated Approach
Keeping what works and improving the results with new technology
Applying the new when needed
Options are useless without a clear understanding of what they do. We include intuitive, easy to use options and apply them with good old fashion common sense.

Results
Results matter. At the end of the day, we need to know that our money is well spent and our objectives were reached.
Keeping the ROI top of mind
Success needs to be defined to have measurable results.  We have to know where we are going to know if we arrived.
Action trumps Perfection.  Just do it!
Marketing Collateral Specialist
86%
Social Media Specialist
85%
Proudly Canadian. Helping Clients Worldwide.
We thrive on Creativity, Intuition & Innovation.
Whatever it takes. However long it takes.
We Are Creative.
Out-of-the-box creativity
We are Intuitive.
Proactive versus Reactive
We are Innovative.
Real Innovation Junkies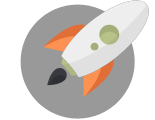 We're Here To Help Your Business Blast Off!
Through Creative Ideas, Innovation & Sheer Determination